Baths
Baths and areas of the complex are large, but homely cozy places. Here is a hall with a fireplace for relaxation, showers and a steam room. Our baths are perfect for those who want to relax, pamper your body and spend time with benefits.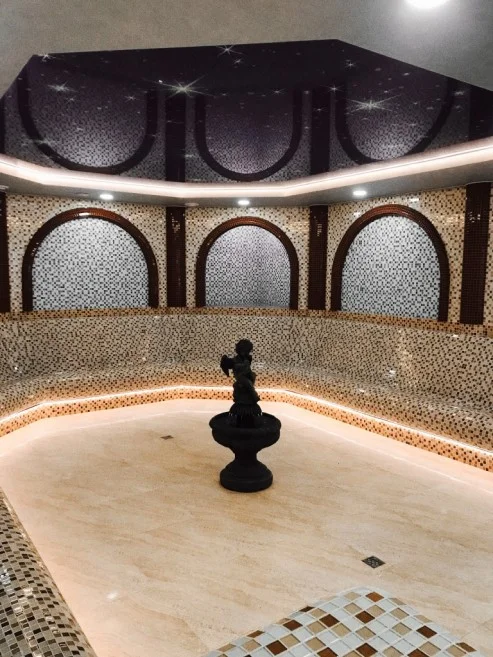 Roman bath
Ancient Roman baths are an integral part of the cultural heritage of the Roman Empire. They have been large-scale recreation centers throughout history, and their architecture and design have impressed with their luxury and originality. The baths of Rome used water exclusively from thermal reservoirs. In our complex we have recreated the ancient Roman baths so that you can have a good rest and get maximum pleasure.
Humid (almost 100%) air at a temperature of 60 * provides a relaxing and restorative effect on the whole body. Thick steam, soft heat helps to gradually warm the body, resulting in opening pores, cleansing the skin, speeds up metabolism and rejuvenates the whole body. The Roman bath serves as a prevention of diseases of the cardiovascular, respiratory and endocrine systems.
For visitors to the pools stay in the bath for 30 minutes is free!
Ecological wood-fired bath
The wood-fired bath is very useful for the body because it has a healing effect on almost all organs. The bath has a beneficial effect on the nervous, cardiovascular and respiratory systems, also activates metabolic processes in the body. Vessels, thanks to such procedures, emit all harmful substances, thereby cleaning their walls. Especially for our guests, we have prepared a real ecological wood-burning bath, which will help to recover and give new strength.
The wood-fired sauna is located in the pools and is open to visitors from 11:00 to 21:00. This is a whole complex of psychophysical cleansing of body and soul, as it increases metabolism, improves blood circulation and stimulates the cardiovascular system, promotes enhanced excretion of toxins and toxins.
Work schedule: 11:00 – 21:00